Veterans Home Buying Benefits: A Quick Guide
Posted by MilVet Homes Team on Thursday, March 16, 2023 at 4:40 PM
By MilVet Homes Team / March 16, 2023
Comment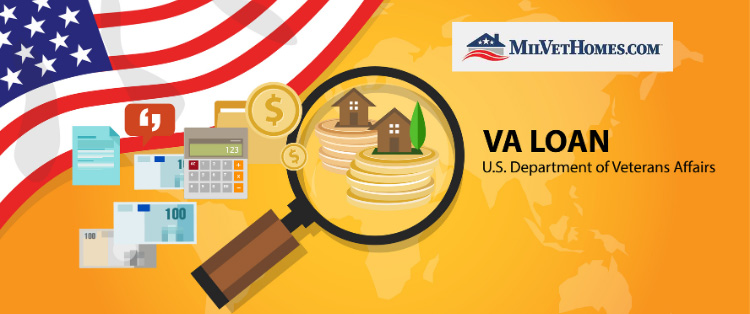 One of the most valuable benefits available to veterans is various types of assistance with buying a home. The U.S. Department of Veterans Affairs (VA) offers several programs and services to help veterans achieve homeownership, including VA-backed loans, grants, and housing assistance. Below are a few of the various benefits veterans can take advantage of when buying a home. Looking to start the home buying process? We recommend you reach out to us. We will be happy to provide guidance on how to navigate the process and help connect you to professionals who can assist you as well.
VA Home Loan Program
The VA Home Loan Program is a cornerstone of veterans' benefits when it comes to purchasing a home. VA-backed loans offer several advantages over conventional loans, including:
No down payment required: In most cases, veterans can obtain a VA-backed loan without making a down payment, making homeownership more accessible.
Competitive interest rates: VA loans typically have lower interest rates than conventional loans, which can save veterans thousands of dollars over the life of the loan.
No private mortgage insurance (PMI): Unlike conventional loans, VA loans do not require PMI, which can result in substantial monthly savings.
Limited closing costs: The VA limits the closing costs veterans can be charged, and some fees are not allowed at all.
No prepayment penalties: Veterans can pay off their VA loans early without facing any prepayment penalties.
To be eligible for a VA-backed loan, veterans must meet certain service requirements and have a sufficient credit score and income.
VA Loan Guaranty
The VA Loan Guaranty is the foundation of the VA Home Loan Program. It provides a financial guarantee to the lender, which allows veterans to secure loans with favorable terms. The guaranty amount varies based on the loan amount and the veteran's available entitlement. This guaranty helps protect lenders from loss if the borrower defaults on the loan, making it less risky for lenders to offer VA-backed loans.
Specially Adapted Housing (SAH) Grant
The Specially Adapted Housing Grant is available to veterans with specific service-connected disabilities, including the loss or loss of use of both legs, certain severe burns, or the loss or loss of use of one leg and one arm. The grant can be used to:
Build a specially adapted home on land to be purchased
Build a specially adapted home on land already owned
Remodel an existing home to meet the veteran's needs
Pay down the mortgage on a specially adapted home that has already been purchased without the assistance of a VA grant
Special Housing Adaptation (SHA) Grant
The Special Housing Adaptation Grant is designed for veterans with service-connected disabilities that affect their mobility, such as blindness in both eyes, the loss or loss of use of both hands, or specific severe respiratory injuries. This grant can be used to:
Adapt an existing home owned by the veteran or a family member
Adapt a home the veteran or family member intends to purchase
Help the veteran purchase a home that has already been adapted
Native American Direct Loan (NADL) Program
The Native American Direct Loan Program assists eligible Native American veterans and their spouses in purchasing, constructing, or improving homes on Federal Trust Land. The NADL Program offers:
Low-interest, fixed-rate loans
No down payment required
No PMI
Limited closing costs
Veterans have access to a variety of benefits when buying a home, from VA-backed loans with favorable terms to grants for adapting homes to meet their specific needs. By taking advantage of these programs, veterans can achieve homeownership and enjoy the stability and security it provides. If you're a veteran considering buying a home, it's essential to research and understand the benefits available to you and work with a knowledgeable lender to guide you through the process. Real out to us at MilVetHomes.com. We are happy to connect you to the right people.
VA Home Loan Eligibility Restoration
In some cases, veterans can have their VA home loan eligibility restored, allowing them to use their VA benefits again for a subsequent home purchase. This can be done in several situations, including:
The veteran has paid off their previous VA-backed loan and no longer owns the property.
The veteran sells the property and the new owner assumes the VA loan.
The veteran's entitlement was used on a loan that was foreclosed on or otherwise terminated, and the veteran has repaid the VA for the loss.
To restore VA home loan eligibility, veterans must submit a request to the VA and provide documentation supporting their request.
Homeless Veterans Housing Assistance
For veterans facing homelessness or at risk of becoming homeless, the VA offers various housing assistance programs. These programs include:
HUD-VASH (Veterans Affairs Supportive Housing): A partnership between the VA and the Department of Housing and Urban Development (HUD) that provides rental assistance and case management to help homeless veterans find and maintain stable housing.
Supportive Services for Veteran Families (SSVF): A program that provides financial assistance and supportive services to low-income veteran families to help them obtain or maintain stable housing.
Working with a VA-Savvy Real Estate Agent
When purchasing a home using VA benefits, it's crucial to work with a real estate agent knowledgeable about the VA home loan process. These agents can help veterans navigate the complexities of VA-backed loans, identify properties that meet VA requirements, and negotiate favorable terms on behalf of the veteran.
Financial Counseling and Homebuyer Education
The VA also offers financial counseling and homebuyer education resources to help veterans make informed decisions when purchasing a home. These resources cover topics such as budgeting, credit management, and understanding the homebuying process. Taking advantage of these resources can help veterans prepare for homeownership and ensure they are making sound financial decisions.
Veterans have access to numerous benefits and resources when it comes to buying a home, which can make homeownership more accessible and affordable. By understanding and taking advantage of these benefits, veterans can enjoy the stability, security, and investment potential that homeownership provides. Working with knowledgeable professionals, such as VA-savvy real estate agents and lenders, can make the process even smoother and more successful.