Easy Ways To Show Gratitude to Veterans and Military Members
Posted by MilVet Homes Team on Tuesday, November 24, 2020 at 3:38 PM
By MilVet Homes Team / November 24, 2020
Comment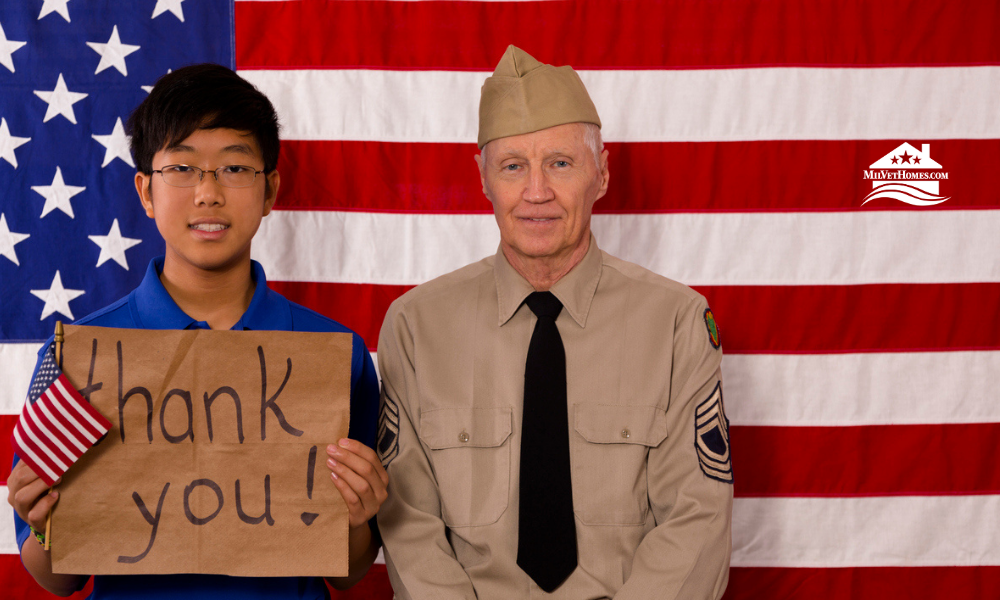 Easy Ways to Show Gratitude to Veterans and Military Members
You are thankful for veterans and their sacrifices, but how do you show it? We have put together a few great ways to show you care.
Say Thanks | If you see a service member or veteran walking down the street, in a restaurant, or when you are shopping, say "thank you for your service". It's easy! An added tip.. look at hats to identify military members.
Look To Family | Talk with veterans in your family. Ask them about their experiences in the military. You will find out new things, and it is likely that they will love knowing you care enough to ask and listen.
Veteran's Hospital | Consider visiting a veteran's hospital one afternoon (after the pandemic, of course). Many vets are alone, and a friendly visit would mean more than you know.
Honor Those Who Have Passed | Volunteer to place flowers/wreaths on gravesites on special days. On other occasions, you can visit the cemetery and clean up any unkempt grave sites you see.
Pet Care | Volunteer to care for a service member's pet during their deployment or a veteran's pet while they are on vacation. The non-profit Dogs on Deployment matches service members with volunteers to keep their pets while gone.
Pay It Forward | Pay for a meal in a restaurant. If you see a veteran or military member in a restaurant, as your server if you can pay their bill. You don't even have to let them know that you did it.
Feed The Homeless | There are many homeless veterans. When volunteering at a homeless shelter, you will more than likely encounter veterans. Don't forget to thank them for their service!
Mentorship | If you have business experience, you can volunteer to mentor veterans. You can also help veterans with their resumes. Military members transitioning out of the service often have no resume. An impressive resume gives them a leg up.
USO | You can volunteer at the USO. Military members count on the USO at airports. You can spread cheer to traveling service members.
These are just a few of the ways that you can show gratitude and appreciation to veterans and military members. Let us know in the comments below if you have any other suggestions. Happy Thanksgiving!